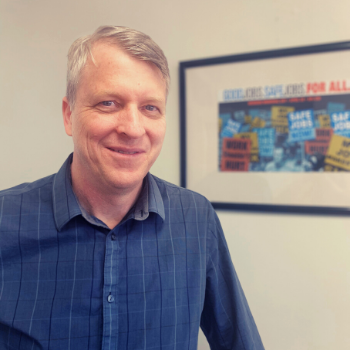 We are excited to announce that Stephen Knight has joined the Worksafe team as our new Executive Director. Stephen has a deep background as an advocate for social and economic justice — his career has been dedicated to work on economic inequality, affordable housing, refugees, and the environment. He was founding attorney with the Center for Gender & Refugee Studies, helping to win asylum protection for individuals fleeing gender-based violence. Stephen has also worked to defend low-income tenants at the National Housing Law Project and fought for environmental progress with Save the Bay. Most recently he led the large policy team at Alameda County Community Food Bank, including successful community advocacy to support increases in Supplemental Security Income and the California Earned Income Tax Credit, and advancing the organization's work on equity and inclusion.
Stephen's professional path was shaped by his involvement with social movements in college (supporting Yale workers striking for equal pay and advancing the university's divestment from apartheid South Africa) and law school (volunteering while at UC Hastings with Ralph Abascal at California Rural Legal Assistance to overturn the anti-immigrant Proposition 187). Stephen lives in Berkeley with his partner of over 30 years; they have two children.
Q: Why Worksafe?
We face deep, historic inequality across the American economy and workplace. I came to Worksafe to help advance public policy to counteract these trends that are tilting the balance of power against working people. Great fortunes are being accumulated through the manipulation of labor rules and standards, including new business empires constructed by companies that found a way to have virtually no 'employees.' The accumulation of wealth and the power that those resources can buy are arrayed in a more deeply unequal way than this country has seen in generations. This inequality is a threat to our democracy, and its consequences are being felt by working people every day. Worksafe and the coalitions we support stand at the intersection of multiple threads of vital advocacy to hold business and government accountable to their obligations to keep the workplace safe and healthy for all.
Q: What issue particularly interests you?
It's hard to pick a single one. But the issue of gender equality is central to shaping progressive solutions for our future. Among my very first advocacy experiences was as a college student during a clerical and technical workers strike – a strike by a mostly female workforce over issues of gender and pay inequality. After law school, I spent many years working on gender violence through the lens of immigration and refugee law, and today I am on the board of the Family Violence Law Center in Oakland. It was just reported that women make up more than 50% of payroll jobs nationally. Addressing the widespread issues of harassment, violence, and inequality faced by women at work can improve jobs and the workplace for everyone.
Q: What are you most excited about as you start at Worksafe?
I am excited to work alongside and learn from the dedicated team that has built Worksafe into the advocacy powerhouse it is today – staff and board members alike. And I welcome the challenge of supporting the organization's health and sustainability so that we can grow stronger together. Luckily, the changing political environment in Sacramento seems to make this a good time to advance progressive reforms to benefit all California workers.
Q: What do you do for fun?
I enjoy reading (mostly fiction), cooking and baking, playing board games, and especially travel. I am looking forward to starting my bike commute to downtown Oakland – it's a great way to close out a day spent at a desk and keyboard.