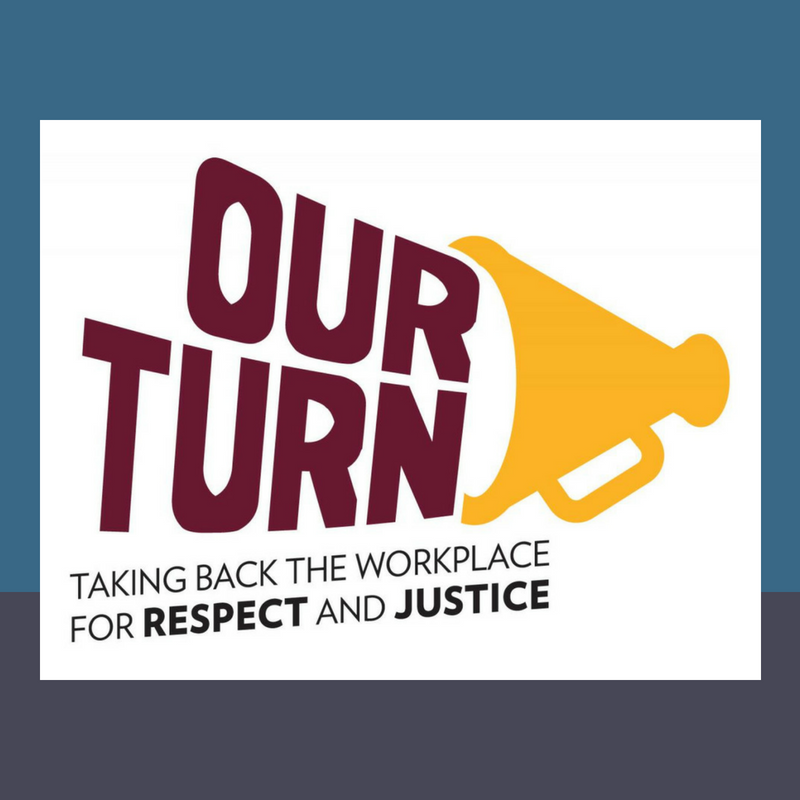 Today Worksafe joined with janitors, factory workers, farmworkers, and other low-wage workers to launch Our Turn, a new alliance to end workplace sexual abuse and harassment, with a special focus on low-wage and vulnerable workers.
"For years, workers whose lives rest on the margins — low-wage workers, workers of color, immigrant women — have been fighting in the shadows to end sexual harassment in their workplaces," said Nicole Marquez, Worksafe senior staff attorney. "Now is the time build upon this powerful foundation and mobilize broadly to end sexual harassment on the job."
Our Turn will unite workers, community allies, and organizations across the country who are fighting for – and winning – new protections in union contracts, state laws, municipal ordinances, and company policies. The alliance was convened by the National Council for Occupational Safety and Health (National COSH), the nation's leading grassroots advocate for workplace safety.
As a member of the Our Turn Steering Committee, Worksafe is inviting the public and organizations to lend their support by visiting OurTurnatWork.org and signing the Our Turn "Commitment to Unity and Action" pledge. More than 80 organizations and individuals have already signed on. By taking the pledge, participants commit to:
Support workplace, community and political organizing;
Advocate for laws and policies that protect workers and provide tools for preventing abuse and harassment;
Elevate stories of workers who have fought back against abuse;
Hold government agencies and employers accountable for harassment and violence in workplaces they oversee.
"Low-wage workers are fed up are saying loud and clear, 'We will not tolerate abuse as a condition of earning a living,'" said National COSH Co-Executive Director Jessica Martinez. "This is a basic issue of workplace safety. Every worker – regardless of race, gender, income, or sexual orientation – has a fundamental right to a workplace free from abuse and harassment."
The Our Turn initiative, said Martinez, will build on the decades of experience engaging workers as leaders, united with labor and community allies, in organizing and winning critical safety protections in workplaces and public policy arenas across the country. The new coalition will mobilize members and allies to promote workplace organizing, legislative advocacy, and hands-on training and also serve as a national clearinghouse for best practices and policies to prevent workplace sexual violence and abuse.
For more information, visit OurTurnatWork.org.