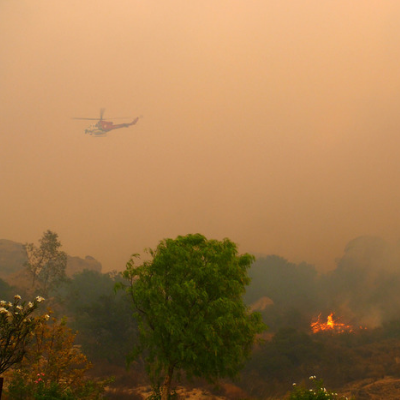 [SAN DIEGO, CA] Today California's Occupational Safety and Health Standards Board voted to adopt an emergency rule to protect outdoor workers from exposure to unhealthy levels of wildfire smoke. The process was initiated last December when Worksafe, the California Rural Legal Assistance Foundation, and the California Federation of Labor petitioned the Standards Board to address the issue with an emergency standard before the 2019 wildfire season. 
Wildfire smoke contains high levels of fine particulate matter (PM2.5) which can reduce lung function, worsen heart conditions, and exacerbate respiratory disorders.  "As with all disaster preparedness, time is of the essence," says Worksafe Executive Director Doug Parker. "It is crucial that these protections are in place before more workers are exposed to harmful conditions that can have lasting health consequences." 
During the 2018 wildfires, reports of agricultural workers laboring unprotected in smoky conditions troubled labor, environmental justice, and community groups throughout the state and prompted volunteer efforts to distribute N95 masks in the fields. The new rule will require employers to implement necessary controls when the AQI for fine particulate matter reaches 151 or above. 
"Employers are obligated to assess occupational hazards and provide their workers with adequate protections, but during the 2017 and 2018 wildfires we saw that some employers were unprepared or unwilling to address employee concerns about smoke," says Worksafe Senior Staff Attorney Nicole Marquez. "Today's decision affirms that affected workers, including low-income and immigrant workers, should not have to rely on personal resources or volunteer charity to get the protective equipment they need."
The temporary rule passed today will be in effect for one year. The Division of Occupational Safety and Health (Cal/OSHA) will hold an advisory meeting on August 27th in Oakland to seek input on the development of a permanent regulation.
###