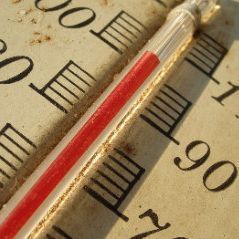 At the top of Worksafe's legislative agenda this year was tackling the dangers of indoor heat. After years of work on the issue with our allies, including the California Labor Federation and the Warehouse Worker Resource Center (WWRC), Worksafe is proud to celebrate with California workers a new law that will save lives!
On September 29th, Governor Brown signed SB 1167, a law that will put rules in place to protect workers from indoor heat exposure. Workers in warehouses and factories – often non-ventilated, even in the peak of summer – or in heat-intensive industries like laundry facilities are routinely expected to work for hours in temperatures exceeding 100 degrees. The new law requires the Cal/OSHA Standards Board (OSHSB) to create and implement new rules to protect workers from the hazards of working in indoor heat.
Sheheryar Kaoosji, Co-Director of WWRC, put the new law into context. "Workers in major warehouses operated for big retailers like Target and Walmart have been long deprived of any information about how to respond to the high heat temperatures they encounter every summer. As global warming affects us in the Inland Empire, policies like SB 1167 will give workers the tools to speak up and educate themselves."
And while industry will often contest new safety regulations, in a process that can drag on for years while workers continue to suffer, the new law includes a firm deadline for implementation.
SB 1167 comes out of a hard-fought Cal/OSHA appeals board (OSHAB) case in which Worksafe, the Katharine & George Alexander Community Law Center, and the Warehouse Worker Resource Center together fought for warehouse workers' rights with respect to indoor heat. Worksafe was co-counsel in the case, which began in 2011, when an Inland Empire worker employed by National Distribution Centers, Inc. (NDC) and Tri-State Staffing, Inc. (Tri-State) fell ill while cleaning shipping containers. Despite reporting his illness to both of his employers, no one did anything to assist him, and he was ultimately hospitalized for three days due to heatstroke.
The case is a strong example of the need for a clear rule on indoor heat so that both employers and employees know what needs to be done to ensure workers' health. Worksafe and our co-counsel were able to win a victory in this particular OSHAB case against the employers, on the grounds that there should have been protections in place in their Injury and Illness Prevention Plan. In fact, the case is still ongoing, as NDC and Tri-State have gone to court to get the decision overturned.
Now, thanks to this bill's passage into law, indoor workers will be protected by a comprehensive indoor heat standard, the same way that outdoor workers are protected. Jose Rodriguez, a warehouse worker with California Cartage at the Port of Los Angeles, expressed what the law meant to him and his coworkers: "I have worked in a warehouse at the port of Los Angeles for over 20 years. We never were told how to deal with heat, even when other co-workers were affected. Now we will have clear rules to hold our boss accountable."
Congratulations to the California Labor Federation, Warehouse Worker Resource Center, ILWU Northern California District, Luisa Gratz, and the many others who championed the importance of indoor heat protections for workers in California.