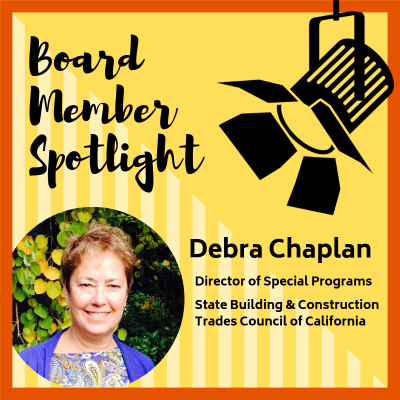 Since 2010, Worksafe has been honored to have Debra Chaplan on our board of directors. Though her formal board tenure ended this fall, she'll always be a highly valued member of the Worksafe crew. Thanks so much for your support and leadership, Debra!
How would you describe your Worksafe board experience? 
"I enjoyed serving on the Worksafe Board because it is a group of lovely, dedicated, smart people who approach safety and health from different vantage points, but who all genuinely care about the issue and strengthening the organization."

What is a movement moment that you loved participating in? 
"Launching and building the Women Build California and the Nation conferences for women in the trades. It started in 2002 as a conference for about 200 California tradeswomen; it became a national event that grew to nearly 1,100 participants in 2015. Women who work in the trades often find that they're the only one on a worksite, so bringing such a large group of tradeswomen together in one room lets them know that they're not alone. And at each conference, we made sure to hold workshops on working safely, which can be a particular a challenge for women because PPE often isn't made for their size or build. One year, the conference fell on Workers Memorial Day, and we put on an amazing commemorative event highlighting women who had died on the job."