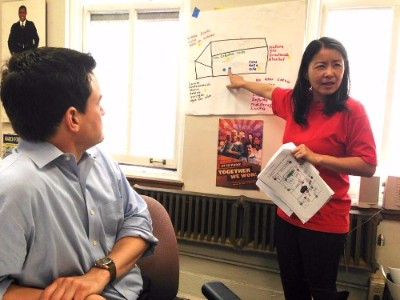 As a Legal Services Support Center, Worksafe provides the following services:
Assistance to legal services programs

Impact litigation and amicus briefs

Legal clinic advice and assistance

Training for legal advocates
---
Legal Assistance
Although Worksafe does not directly represent individuals, we provide technical advice and assistance to those legal services programs who handle injured workers' cases or who provide any level of service that assists people with work-related legal issues.
Our areas of expertise include occupational safety and health, workers' compensation laws, workplace toxic hazards, trial practice, writ practice, and administrative and legislative advocacy.
If you are a legal services program and would like to request advice or assistance, please contact us.
---
Litigation
We work closely with legal services programs and the organizations that they assist to address broad worker safety and health policy issues through writ and appellate proceedings and other types of impact litigation.
We have served as lead counsel, co-counsel, and amicus counsel in select impact litigation, advocating on behalf of low-wage, immigrant workers for stronger health and safety protections under California law. 
---
Injured Worker Clinics
Worksafe also provides assistance to legal aid organizations that serve low-wage workers through periodic legal clinics.
At these clinics, injured workers can seek assistance from experienced volunteer workers' compensation attorneys, law students working under the guidance of such attorneys, and/or community workers who can assist with vital non-legal aspects of the clients' cases. 
We have successfully supported injured worker clinics by developing written attorney guidelines, creating appropriate intake questionnaires, attending clinics to support clinic staff and volunteer attorneys when requested, recruiting volunteer attorneys for each clinic, and providing worker educational materials to be disseminated at the clinic.
If your legal aid program is interested in starting a clinic to serve low-wage injured workers, or if you'd like to explore the possibilities of establishing a clinic, please contact us.
---
Training for Advocates
Worksafe offers free training to legal aid attorneys, unions, and other advocates for low-wage and vulnerable workers. We are a State Bar certified provider of California MCLE (Mandatory Continuing Legal Education) credit.
A sample of recent trainings are listed below. We are also able to create trainings tailored to your team's specific needs. Request a free training today.
Assisting Injured Workers: Workers' Compensation Basics for Legal Services Attorneys

Learn how to assist workers with the practical problems they often face as they try to obtain medical care and disability benefits after being injured on the job--including how to find other resources (e.g., assistance from the Division of Workers' Compensation, representation by private attorneys) as necessary to help your clients.

This workshop will help you broaden your knowledge of other remedies that may be available when employers retaliate or discriminate against injured workers for making a workers' compensation claim, asserting their rights under family leave laws or when they are unable to work or require reasonable accommodation to do their jobs. Request this training today!

Assisting Injured Workers Whose Employers are Illegally Uninsured

Injured workers with illegally uninsured employers are entitled to workers' compensation benefits. Worksafe can teach you the nuts and bolts of the Uninsured Employers Benefit Trust Fund (UEBTF) system to help them get these benefits. We will give you step-by-step information and advice to provide effective legal assistance to help injured workers who are otherwise highly unlikely to receive the benefits and medical treatment to which they are entitled. Contact us if you'd like to be trained on the UEBTF.

How to File an Occupational Safety and Health Complaint

This training program is focused on information about the right to a safe place to work. We provide practical advice and step-by-step instruction on filing a complaint that will lead to successful resolution for workers.

We will present information on interviewing witnesses, interacting with government investigators and attorneys, and the law and procedure you need to know to file an effective complaint. Interested? Complete our online form.

Remedies for Clients Facing Toxics in Their Work Environments and Communities

At work and at home, low-wage and immigrant workers and their families face toxic threats that have real implications for their health and economic well-being. This interactive workshop will provide the basic legal and scientific knowledge and advocacy skills to help clients recognize toxic exposures; find responsible parties; make effective complaints; get appropriate health care; reduce or eliminate exposures; and join with others in their communities to impact public policy. Sign up for this great workshop.

Preventing Heat Illnesses and Heat-Related Fatalities

This training is designed to teach you the ins and outs of California's heat illness law and regulations. We will provide instruction on how to prepare, file, and pursue a complaint when an employer violates the Cal/OSHA outdoor heat illness regulation, or subjects workers to dangerous indoor heat conditions without adequate precautionary measures. Contact us to be trained on this important and relevant topic.

Hone Your Skills for Representing Clients in Administrative Hearings

Worksafe attorneys and allies with extensive experience in a variety of administrative settings—Cal/OSHA, DLSE, the Public Employment Relations Board, the National Labor Relations Board, and others—will provide practical instruction and tips on how to effectively interview your clients and witnesses, prepare an administrative complaint, examine and cross-examine witnesses, and present documentary evidence in administrative hearings. Complete our simple form to request this training.

A Guided Tour to the Administrative Agencies That Are Charged With Promoting Worker Health

Whether by design or inattention, the California Legislature has created a confusing maze of state and local administrative agencies with mandates and/or authority to address a wide array of worker health and safety issues, which can be especially difficult to navigate for precisely those low-wage and immigrant workers the agencies are charged to protect.

Learn strategies for leveraging the power of agencies including Cal/OSHA, DLSE, DWC, CDPH/OHB/HESIS, OEHHA, DTSC, CARB, and others, to assist clients who are exposed to toxic substances in the workplace, who are injured on the job, or who are denied their rights or suffer retaliation for asserting rights under the Labor Code, disability discrimination laws, family leave and disability benefits laws, and environmental regulations. Sign up to learn about the complicated interplay among these relevant agencies.