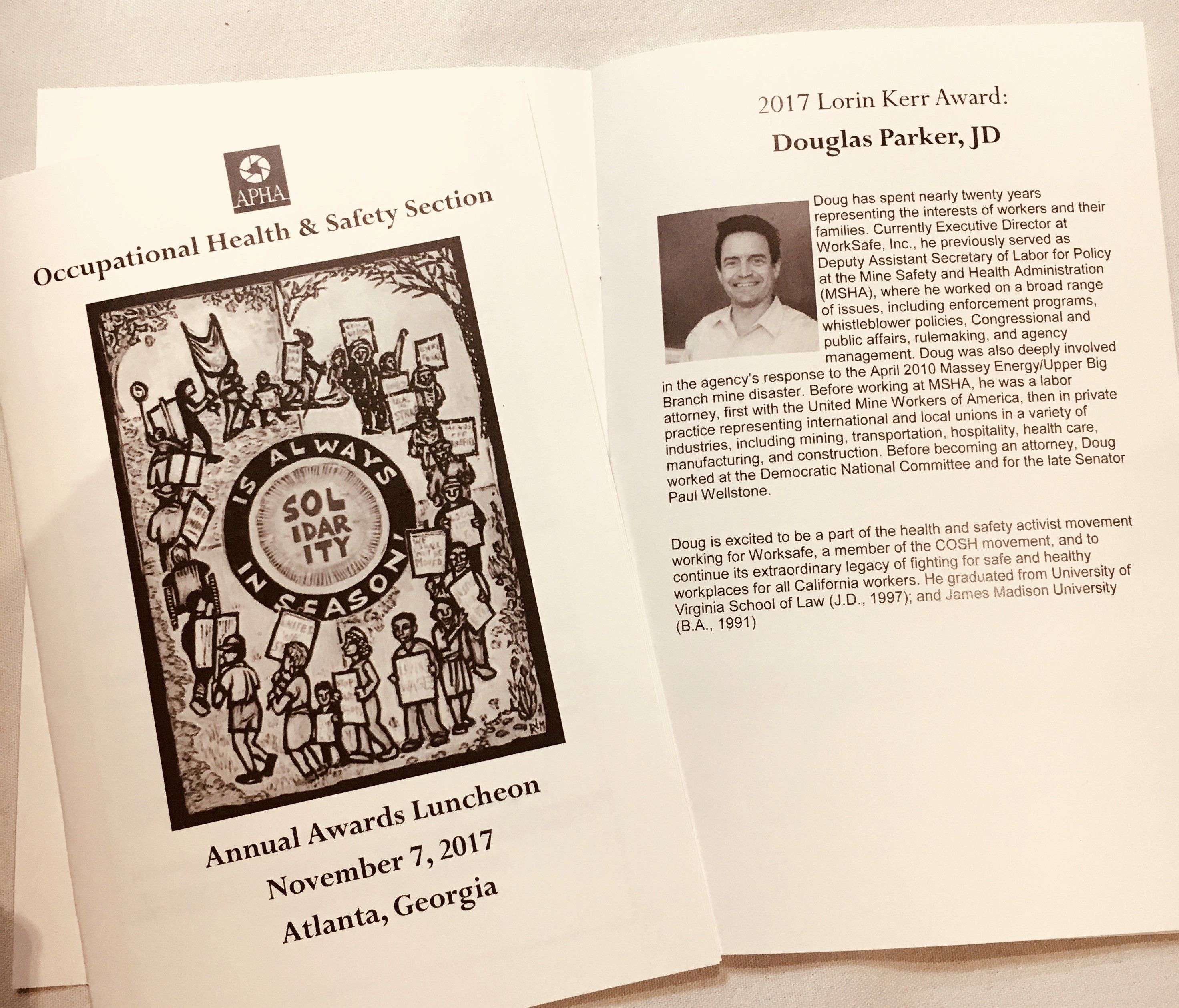 Last week Worksafe Executive Director, Doug Parker, was honored to receive the 2017 Lorin Kerr Award from the Occupational Health & Safety section of the American Public Health Association (APHA). Read Doug's remarks below:
"Thank you for this wonderful honor. I gratefully accept this award with the acknowledgement that anything I've done to deserve it has been accomplished as part of a team of talented and dedicated co-workers, activists, and rank-and-file working people.
Receiving an award named after Dr. Lorin Kerr is a special honor for me that evokes both the continuity and changes in health and safety activism across generations.
I started my legal career 20 years ago as a staff attorney at the United Mine Workers of America, where Dr. Kerr was once director of occupational health. I later represented the UMWA Health and Retirement Funds Dr. Kerr helped to shape. In 2009 I left the practice of law to join the leadership of the Mine Safety and Health Administration, enforcing laws Dr. Kerr helped to create. Now, I am in California at Worksafe, an organization dedicated to workers who are vulnerable and marginalized, not unlike the Appalachian miners of Dr. Kerr's era.
I'm unable to be join you at APHA today because I'm caring for my 87 year old father, spending time with him, and listening to him reflect on his life between hospice care visits. It is another opportunity for me to think about generational continuity and change.
As dad looks back at the years, he hasn't talked much about his career at the power company. But when he did, he told me about a few things that made him the proudest. The first was that there were no significant lost-time injuries during his 18 years as a division-level manager. One of his employees told to me that when dad started with the company in the 1950's, he began a practice of monthly safety breakfast meetings. The workers had never even had a safety meeting before, nor felt any manager before dad really cared much about their safety.
The other thing he was proud of was treating workers fairly. Dad never had a serious labor dispute; he treated workers with dignity and respected their rights. Since I've been home, the shop steward dad worked with has visited or called every day to check on him.
Professionally, my dad and I have sat on opposite sides of the table when it comes to our roles in labor and health and safety. While we have many ideological differences, it was him who taught me that regardless of those differences, people's health, safety, and fair treatment is a matter of morality and decency. I thank my father for the example he set, and I thank the OHS section for this special honor."
Doug Parker, Executive Director