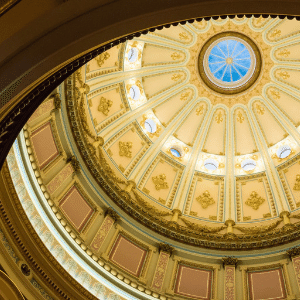 Worksafe is currently prioritizing support for the following bills:
SB 306 (Retaliation Injunctive Relief - Hertzberg)
Sponsor: California Labor Federation
Status: Active bill pending referral in the Assembly
Summary: Would grant the Labor Commissioner authority to seek temporary injunctions against employers for Labor Code violations, such as retaliation for reporting a health or safety hazard. The bill would also give the Labor Commissioner authority to issue citations and penalties directly to enforce retaliation claims, rather than exclusively through the courts. Finally, the bill would authorize an employee who is bringing a civil action for a retaliation claim to seek injunctive relief from the court.
SB 54 (California Values Act - De Leon)
Sponsor: Authored Sponsor
Status: Passed the Senate. Double referred to the Assembly Committees on Public Safety and Judiciary.
Summary: Would prohibit state and local law enforcement agencies, including school police and security departments, from engaging in immigration enforcement or using any state or local resources in carrying out enforcement activities. SB 54 would also expand the Transparency and Responsibility Using State Tools (TRUST) Act, which established minimum standards across the state to limit cruel and costly Immigration and Customs Enforcement (ICE) holds in local jails by prohibiting the transfer of any individual into federal custody for deportation without a judicial warrant. The bill also instructs the Attorney General to create model policies that limit immigration enforcement on the premises of sensitive locations such as schools, hospitals, clinics, and courthouses.
AB 978 (Injury and Illness Prevention Program - Limón)
Sponsor: California Rural Legal Assistance Foundation (CRLAF)
Status: Active bill pending referral in the Senate
Summary: Would provide workers access to a copy of their employer's written Injury and Illness Prevention Program (IIPP).
AB 1008 ("Ban the Box" - McCarty)
Sponsor: National Employment Law Project
Status: Active bill pending referral in the Senate
Summary: Reduces barriers to employment for people with arrest and conviction records through a statewide "ban the box"/fair hiring policy that prohibits employers from inquiring about an applicant's criminal record until a conditional offer of employment has been made.
AB 450 (Notice of ICE Raids - Chiu)
Sponsor: California Labor Federation
Status: Active bill pending referral in the Senate
Summary: Provides clear guidelines to protect workers and employers in the event of worksite enforcement activities by ICE. AB 450 requires employers to notify the California Labor Commissioner of an ICE raid; allows the Labor Commissioner to protect workers who are in the current claims process; and allows the Labor Commissioner access to information about workers.
Other important pieces of legislation we support as allies:
SB 772 (Cal/OSHA Regulations - Leyva)
Sponsors: California Labor Federation, AFL-CIO; California Nurses Association/National Nurses United; and the State Building and Construction Trades Council
Status: In Assembly Labor and Employment Committee
Summary: Would exempt Cal/OSHA regulations from the requirement that a Standardized Regulatory Impact Assessment (SRIA) be conducted for any regulation that is estimated to have an economic impact of $50 million.
SB 258 (Cleaning Ingredient Disclosure - Lara)
Sponsors: Breast Cancer Prevention Partners, The Environmental Working Group, and Women's Voices for the Earth
Status: Active bill pending referral in the Assembly
Summary: Would require disclosure of the ingredients in consumer cleaning products and notification of potential health effects.
SB 295 (Sexual Harassment/Farm Workers - Monning)
Sponsor: California Rural Legal Assistance Foundation (CRLAF)
Status: Active bill pending referral in the Assembly
Summary: Current law prohibits the issuance of a farm labor contractor license unless the applicant attests in writing that certain employees have received sexual harassment prevention and reporting training in accordance with prescribed requirements relating to the substance, administration, and record of the training. This bill would additionally require that training for each agricultural employee be in a language understood by that employee.
SB 185 (Crimes Infrastructure - Hertzberg)
Status: Active bill pending referral in the Assembly
Summary: Would require courts to reduce fines issued to people found to be indigent. The bill would cap all fines at 5% of the defendant's monthly family household income.
AB 3 (Public Defenders/Immigration - Bonta)
Sponsors: California Immigrant Policy Center, ACLU of California, Immigrant Legal Resource Center, and California Public Defenders Association
Status: Active bill pending referral in the Senate
Summary: Would provide funding to train public defenders to competently represent and advise non-citizen defendants on the immigration consequences of plea agreements and other aspects of their criminal case. This initiative leverages the expertise of qualified nonprofit legal services organizations to provide this training.
AB 1111 (Removing Barriers for Employment - Garcia)
Status: Active bill pending referral in the Senate
Summary: Would establish a grant program to assist individuals who have multiple barriers to employment to receive remedial education and work readiness skills. This will help those individuals successfully participate in training, apprenticeship, or employment opportunities that enhance skill development that will lead to self-sufficiency and economic stability.
AB 199 (Prevailing Wage - Chu/Thurmond)
Status: Active bill pending referral in the Senate
Summary: Would require prevailing wages be paid to construction workers on private projects built using public funds.
AB 1565 (Preserving Federal Overtime - Thurmond)
Status: Active bill pending referral in the Senate
Summary: Would require overtime compensation for any executive, administrative, or professional employee earning a monthly salary of less than $3,956 or double the state minimum wage for full-time employment whichever is higher.
Worksafe supports the following amendments to standards and/or adoption of new standards:
Process Safety Management for Petroleum Refineries
Worksafe is proud to have been a part of the effort that lead to the Occupational Safety and Health Standards Board's unanimous vote on May 18th to adopt strong new Process Safety Management (PSM) regulations that put California at the forefront of preventing hazards at refineries. The new regulations prioritize proactive prevention of potential hazards, require adoption of the most effective available methods of protecting workers using a hierarchy of controls review, require employee input in review of safety issues and development of responses, and incorporate organizational and safety culture assessments. Worksafe partnered with the BlueGreen Alliance, the United Steelworkers Union, the California Labor Federation, the State Building and Construction Trades Council, and the Sierra Club to stave off last minute attempts to weaken the new rules.
Next Steps: The Standards Board staff will submit the package to the Office of Administrative Law within one year after publication in the California Regulatory Notice Register.
Indoor Heat Standard
As a result of the successful passage of SB 1167, the Cal/OSHA is required to propose a standard protecting workers from exposure to hazardous indoor heat by January 2019. Cal/OSHA is required to consider the heat stress and heat strain guidelines contained in the 2016 Threshold Limit Values and Biological Exposure Indices developed by the American Conference of Governmental Industrial Hygienists (ACGIH). Worksafe is part of an organizing effort to create a broad coalition of worker-centered stakeholders to ensure the standard covers all workers and includes necessary science-based protections.
Worksafe helped organize advocates and workers to attend and testify at the first advisory committee meeting held on February 28th. Cal/OSHA's first discussion draft contained many positive components, including proposed temperature thresholds that triggers requirements based on risk factors like humidity levels, the intensity of work, required clothing that increased body temperature, and the worker's level of acclimatization.
Unfortunately, Cal/OSHA's second discussion draft capitulated to industry complaints of "confusion," leaving out key worker protections and abandoning many of the components of the ACGIH guidelines. Worksafe and its allies organized workers and advocates to appear at the second advisory committee, held on May 25 in Ontario, California. Workers shared their personal stories of heat illness, and Worksafe advocated for Cal/OSHA to focus on worker protection and not industry demands.
Next Steps: Worksafe and allies will continue to push Cal/OSHA to adequately consider ACGIH guidelines, as SB 1167 requires, and to adopt a protective standard that is based on science and protects all California workers.
Hotel Housekeeper Musculoskeletal Injury and Illness Prevention
This standard creates a new musculoskeletal injury (MSI) and illness prevention standard for hotel housekeepers. This standard will include specialized training for hotel housekeeping employees and supervisors, protocols and procedures for early identification of MSI, and new recordkeeping requirements. Worksafe has actively participated in the advisory committee process and is continuing to work with UNITE HERE to support the adoption of the standard. The Board received oral and written comments at their May meeting, and the comment period closed.
Next Steps: Worksafe strongly encouraged, and continues to encourage all relevant government agencies to review the comments in a timely manner and move the process forward to a vote to adopt the proposed standard before the end of 2017.
Sexual Harassment Training for Janitors
Last year Governor Brown signed AB 1978, a bill addressing the gaps in our state regulatory scheme that left too many janitorial workers vulnerable to sexual violence and other violations of their basic rights in the workplace. The law requires all janitorial contractors in the state to register with the Labor Commissioner. It also mandates training on sexual harassment and sexual violence for all supervisors and employees, and provides avenues to enforce these provisions. Worksafe is a member of the Ya Basta Coalition to end violence in the janitorial sector, which is composed of members from worker advocacy organizations, unions, and other women's rights advocacy groups. Worksafe and the coalition members continue to work with the Department of Industrial Relations to ensure proper implementation of AB 1978.
Next Steps: The advisory committee will convene a meeting with stakeholders on June 13 in Los Angeles.
Permissible Exposure Limits
The Health Expert Advisory Committee (HEAC) was convened to advise Cal/OSHA in its review of existing and proposed changes to Permissible Exposure Limits (PELs) for airborne concentrations of chemical substances in the workplace. The first advisory meeting was held in December 2016, and the second in March 2017. The committee discussed the feasibility of implementing revised PELs for cyclohexane, n-propanol, and trimellitic anhydride at the March meeting. The committee will prioritize and review new chemicals at the next convening, including Aluminum, Hydrogen Sulphite, Manganese, and Methyl isobutyl ketone (MIBK).
Next Steps: The HEAC will convene on June 20.
Lead Standard
The lead standard would modify Medical Surveillance, Medical Removal Protection (MRP), Permissible Exposure Limit (PEL), and Action Level (AL) sections of the general industry standard. Other changes also include: protective clothing, hygiene, training, and warning sign requirements to strengthen these aspects of the standard consistent with current medical/toxicological knowledge. Worksafe actively participated in the Advisory Committee meetings and is continuing to work with allies to support promulgation of the Lead Standard.
Next Steps: We understand the Lead standard language requires an economic analysis, and possibly an SRIA.
Residential Fall Protection
This standard requires California to come into compliance with the Federal OSHA residential construction industry fall protection trigger height of 6 feet. This height triggers an employer's responsibility to provide fall protection. California's existing standards for residential construction contain trigger heights that vary between 6 and 20 feet depending on the nature of the work and the conditions. The agency has drafted Stage 1 rulemaking documents but Cal/OSHA reports that the rule requires an SRIA.
Next Steps: Cal/OSHA reports that an SRIA cost analysis must be conducted.
Silica Standard
This standard requires California to come into compliance with the Federal Silica standard. The U.S Department of Labor promulgated regulations addressing silica, from which California's standard differs in scope, application, the PEL, and several other major elements. Worksafe testified in support of adoption of the Obama Administration's respirable silica rule against overwhelming opposition from the construction industry. The Board voted to adopt the federal standard for both general industry and the construction sector, but also moved to convene an advisory committee that would consider modifications to the federal construction standard. The construction industry would like to expand the types of work processes that are exempted from a requirement to monitor exposure levels, which Worksafe opposes in the absence of sufficient evidence that any additional exemption is as protective as the federal standard.
Next Steps: At the March 16, 2017 board meeting, the Board agreed to await further data before moving forward with a rulemaking. No data has been submitted to the Board since March. Cal/OSHA has announced a delay in enforcing the new rule until September 23, mirroring the delay announced by the U.S. Department of Labor. Enforcement was to begin this month.
Workplace Violence Standard - General
Last year, Worksafe helped support SEIU 121-RN, the California Nurses Association, and others in the passage of a workplace violence prevention standard in health care. The first advisory committee meeting took place on January 12, 2017. At that meeting, there was an employer push to narrow the scope of the standard. Worksafe submitted comments supporting a broad, strong, and comprehensive workplace violence prevention standard. Worksafe is convening a broad coalition of impacted industries, especially industries where many immigrant and low-wage workers are employed (i.e. hotel housekeeping, janitorial, agricultural, and restaurant workers).
Next Steps: We are awaiting the scheduling of a second advisory committee meeting.