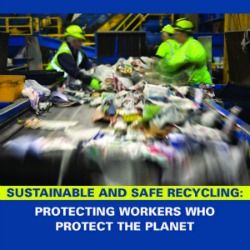 17 Recent Fatalities; Workers Injured at Twice the Average Rate
East Bay Workers Take Action to Make Jobs Safer
OAKLAND, CA - A new report, released Tuesday, June 23 by environmental, occupational safety, and community benefits experts, in collaboration with researchers at the University of Illinois School of Public Health, finds that recycling work is unnecessarily hazardous to workers' health and safety.
Seventeen American recycling workers died on the job from 2011 to 2013, including at least three in California. Recycling workers are more than twice as likely to be injured at work as the average worker.
Improving conditions in the recycling industry is critical for workers in California, a state in which there are 163 Materials Recovery Facilities (MRFs). Significant progress has already been made in the East Bay to improve safety through innovative training that has helped hundreds of recycling workers to learn to identify hazards, know their rights, and take corrective action.
The report, Safe & Sustainable Recycling: Protecting Workers who Protect the Planet, is released by GAIA, Partnership for Working Families, and National Council for Occupational Safety and Health (National COSH). By ensuring health and safety compliance across the industry, the report's authors say cities can create good and safe recycling jobs, and they offer concrete policy recommendations for cities to enact.
Some key findings from the report:
The industry's high injury and fatality rates are a result of unsafe working conditions around heavy machinery and exposure to hazardous items on the sort line, like hypodermic needles, toxic chemicals, and animal carcasses.
Many waste and recycling companies rely heavily on temporary workers, who have fewer protections and are less likely to be informed of their legal right to a safe and healthy workplace.
"This report confirms what we know about similar facilities in the Bay Area through our participation in the Campaign for Sustainable Recycling, led by ILWU Local 6. It is critical that our local governments only sign contracts with those waste recycling companies which have effective health and safety programs in place to protect workers," said Gail Bateson, Executive Director of Worksafe, an Oakland-based affiliate of the National Council for Occupational Safety and Health.
To create good and safe recycling jobs, the authors recommend that:
City governments evaluate the health and safety records of recycling companies and require these companies to have comprehensive worker safety programs;
The recycling industry ends the use of temporary workers; and
Cities enact strong community education programs for greater household separation of waste to minimize dangerous contaminants entering the recycling stream.
"Training workers about hazards and their rights is critical to making these jobs safer. We've learned about numerous instances where workers stopped the line because they spotted syringes, asbestos, or other serious hazards. We also know some of the root causes that contribute to the risk of injury are the speed of the line and the amount of materials they have to process. They tell us that the training we provided gave them the confidence to take action," said Suzanne Teran, with UC Berkeley's Labor Occupational Health Program (LOHP).
"Josefina" commented on what has changed since the training: "I think the most important part of the training was the information we learned about our rights and that we do not have to do something that could hurt us. It helped us lose a bit of our fear."
The report notes that unionized workers, with negotiated contracts, enjoy more effective enforcement of legally mandated health and safety protections and also have the ability to bargain for additional safeguards to improve working conditions.
"We agree with the report's recommendation that cities should take into account waste and recycling companies' safety and health records and commitment to provide industry-specific training for workers when evaluating potential contractors, said Fred Pecker, Secretary-Treasurer of ILWU Local 6, which represents about 300 waste recycling workers in Alameda County. "We have found that training is essential to helping workers ensure their workplaces are safe."
The report also notes the economic and climate benefits from expanding recycling nationally, including climate benefits equivalent to shutting down one-fifth of U.S. coal power plants and sustaining a total of 2.3 million jobs. That is more than 10 times the number of jobs that would exist if we sent the same material to garbage incinerators and landfills.
"If we are serious about solving the world's ecological crises, we need to invest in protecting the lives and livelihoods of workers whose daily efforts are reducing pollution, conserving precious resources, and mitigating climate change," said Monica Wilson of GAIA, a contributor to the report.
Safe & Sustainable Recycling: Protecting Workers who Protect the Planet is released by:
In California:
Worksafe, ILWU Local 6, the Labor Occupational Health Program at UC Berkeley, and others are engaged in a coalition effort to improve working conditions in the waste recycling industry in the San Francisco Bay Area.
For California-specific information on the waste recycling industry, including descriptions of fatal and serious incidents, please see the excerpted stories from Worksafe's annual report (links provided):
Injury and Retaliation at American Reclamation
With No Protection, Brothers Die from Composting Gas
Recycling Industry Giant Appeals Fines After Woman's Death
Honor Recycling Workers: Fix the System Behind Their Deaths
Click here to download the full "Safe & Sustainable Recycling" report (PDF).
Media contacts
NATIONAL: David Isaacson, National Council on Occupational Safety and Health (National COSH) 773.593.2741,david@rkcommunications.net
CALIFORNIA: Gail Bateson, Worksafe, 510.439.6604, GBateson@worksafe.org; Craig Merrilees, ILWU,510.774.5325, craig.merrilees@ilwu.org
###